Photo by Stephen White. Courtesy of Stephen White/Frieze
The capital's elite art crowd decamped to NW1 on a sunny July evening for the opening of Frieze Sculpture, a mainstay in the British summer season now in its third year in residency at the English Gardens in Regent's Park. Running from 3 July to 6 October, the annual sculpture exhibition is a free public art display in central London, showcasing the work of 23 artists of 17 nationalities, where an estimated 1 million visitors will view the exhibition during its three-month residency.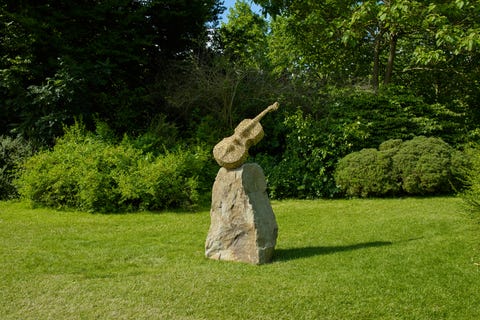 Bill Woodrow, Celloswarm, 2002, New Art Centre, Frieze Sculpture 2019
Photo by Stephen White. Courtesy of Stephen White/Frieze
Clare Lilley, the director of programme at Yorkshire Sculpture Park, hand-picked each artist for Frieze Sculpture, and together with Frieze London's artistic director Jo Stella-Sawicka, has succeeded in securing a selection of established and emerging artists and their supporting galleries from all over the world. Among the 23 artists in the exhibition are sculptors from South Korea, Iran, Colombia, Poland and Canada, highlighting the diversity and energy of contemporary sculpture. Female artists feature heavily in Frieze Sculpture 2019, including the Pakistani-born Huma Bhabha, whose work, according to Lilley, "takes human actions to the very edge of plausibility and acceptability"; and the Scottish-born Turner Prize nominee Lucy Skaer, whose three limestone blocks are a more conceptual reference to the traditional practice of lithographic stone printing, inciting viewers to consider how objects have changed their meaning by being seen in different contexts.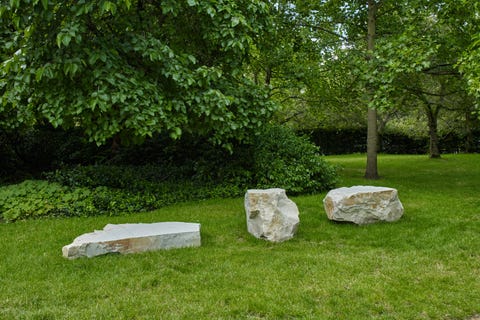 Lucy Skaer, American Images, 2014, Grimm & Peter Freeman, Inc., Frieze Sculpture 2019
Photo by Stephen White. Courtesy of Stephen White/Frieze
Lilley designed the thoughtful arrangement of each sculpture around the English Gardens. Certain pieces are deliberately placed in strategic locations to display them at their best. For example, Emily Young's 1.6m-wide solid-onyx disc is eastward-facing to allow the morning light to create a beguiling illuminating effect on the stone, while Robert Indiana's momentous work 0-9 (Frieze's largest exhibited sculpture to date) has been positioned in a circle, enabling viewers to physically enter the space created inside the work and engage with it. Similarly, Lilley has displayed four works by female artists in close contact as a kind of monument to female strength and prominence in contemporary sculpture.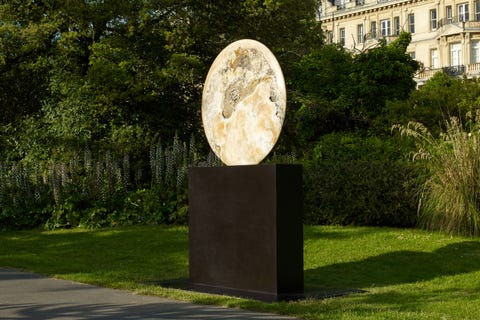 Emily Young, Solar Disc III, 2018, Bowman Sculpture, Frieze Sculpture 2019
Photo by Stephen White. Courtesy of Stephen White/Frieze
Elsewhere, the Japanese-born Leiko Ikemura's hybrid rabbit-woman sculpture responds to the Fukushima nuclear disaster – and the ensuing impact on animal- and human-birth defects – and has a cavernous inner-sanctuary space Lilley likens to a Madonna figure. She suggests that Tracey Emin's When I Sleep is a harrowing self-portrait in response to the grief of losing loved ones, while Joanna Rajkowska's supersized blackbird egg The Hatchling allows visitors to listen to the sound of chicks breaking out from their shells; their heartbeats give a visceral, interactive nature to the work.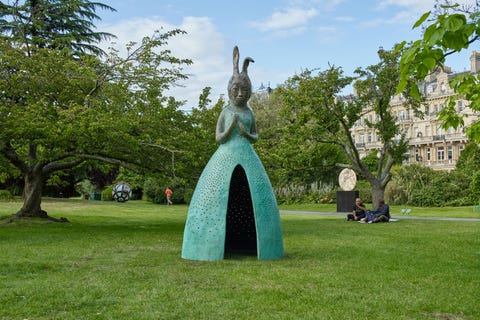 Leiko Ikemura, Usagi Kannon II, 2013-2018, Kewenig, Frieze Sculpture 2019
Photo by Stephen White. Courtesy of Stephen White/Frieze
Other pieces focus on communities and exploring the world around us, for instance the Iranian artist Ghazaleh Avarzamani, who has taken a children's playground slide and sliced it into pieces for her work entitled Strange Temporalities to create an abstract disruption of a social familiarity, and the 81-year-old South Korean artist Tai-Jung Um's slabs of aluminium bound together by a simple black steel structure, symbolising people with differences coming together. Similarly, Iván Argote's Bridges, a piece specially created for Frieze, explores how we negotiate public space and build bridges between communities.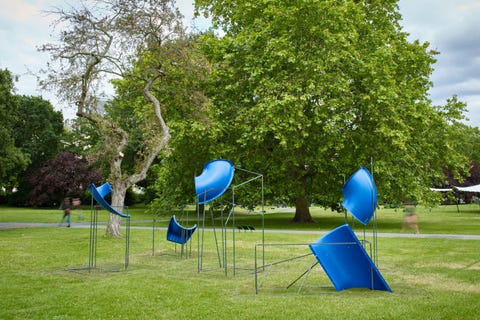 Ghazaleh Avarzamani, Strange Temporalities, 2019, Ab-Anbar, Frieze Sculpture 2019
Photo by Stephen White. Courtesy of Stephen White/Frieze
The accessibility of the works on display is unique to Frieze Sculpture, as the lack of gallery walls and restrictive structures lets guests engage with the works up close. Indeed, when asked what her greatest hope was for this year's exhibition, Lilley replied, "I want people to walk around [the works] rather than look at them frontally, because it's sculpture."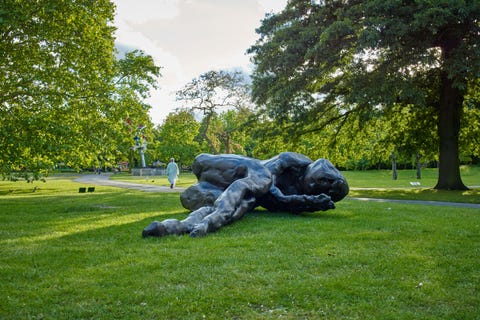 Tracey Emin, When I Sleep, 2018, White Cube, Frieze Sculpture 2019
Photo by Stephen…