Jun 4, 2019
In 1958, when Jack Heuer was 26, he participated in an automobile rally in his native Switzerland. He had just graduated from the Federal Institute of Technology in Zurich, and while he was just starting in his family's watchmaking company, Heuer, his wandering mind flirted with other career paths. It was this aforementioned auto race that would ultimately kickstart Jack's professional involvement with motorsport, merging his passion with the family business.
Thanks to his keen map-reading skills, his team appointed him the co-driver, navigating for Samuel Heuer (same family name, but no relation). Their car ended up in the lead toward the end of the rally, but Jack misread the dial of the 12-hour dashboard timer by a minute, which caused his team to finish up in third place.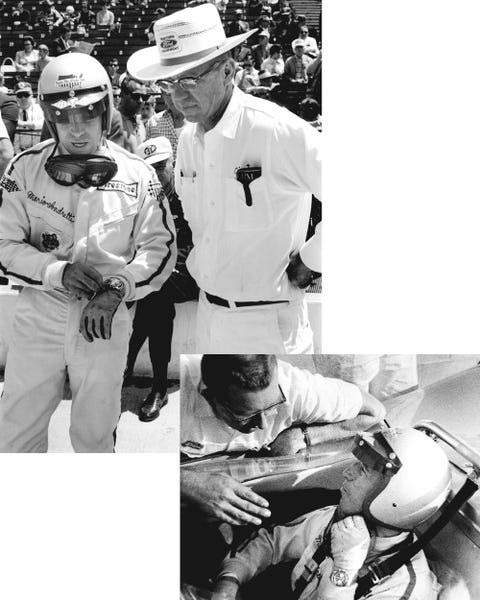 Racing legend Mario Andretti wearing a Heuer watch.
Road & Track
"This error infuriated me," he says. "I realized that the dial was difficult to read correctly in a speeding rally car."
Like most of the cars in the event, the dashboard timer had been made by Heuer, which was even more frustrating for Jack. The company had been developing chronographs since 1887, but by 1958, it was on the cusp of taking this expertise into the Golden Era of motor racing.
When Jack went back to the Heuer household in La Chaux-de-Fonds, he spearheaded the creation of a new stopwatch, this time with large digits for maximum legibility. He named it the Monte Carlo, kickstarting a longstanding tradition of naming watches after racing icons.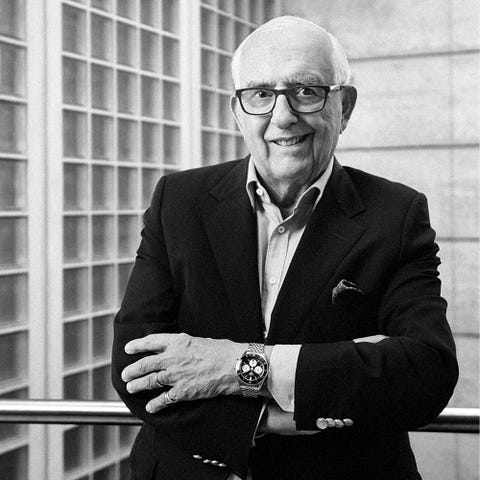 Jack Heuer, Honorary Chairman of TAG Heuer S.A., is responsible for the brand's longstanding tradition of naming watches after racing icons.
TAG Heuer
"I was looking for a way to promote our new chronographs globally, but with a small budget," says Heuer, who at this point was a chief stakeholder in the company. "A family friend suggested I should sponsor a young driver called Jo Siffert, who had shot to fame by winning the British Grand Prix in July 1968…I didn't realize it at the time, but this was probably one of the best marketing moves I ever made, because it opened the door for us to the whole world of Formula One."
In 1963, Jack played an instrumental role in designing and launching the Carrera, a chronograph he named after the famous road race in Mexico, the Carrera Panamericana. The watch would become one of TAG Heuer's most sought-after models.
When IndyCar driver Alexander Rossi won the 2016 Indianapolis 500, he was awarded a Carrera celebrating the 100th anniversary of the famous race. He wears it every day.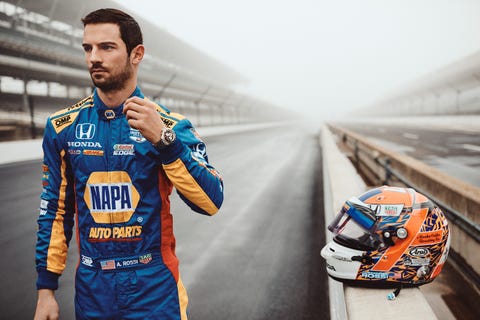 IndyCar driver Alexander Rossi became a TAG Heuer ambassador in September 2016 after his victory at the 100th running of the Indianapolis 500.
Jeff Allen
Rossi established a name for himself early in his career as one of the few Americans to ever compete in Formula One. Now in the world of IndyCar, he's a luminary, winning this year's Long Beach Grand Prix—his hometown race—for the second year in a row. Being chosen as a TAG Heuer Ambassador, one of the sport's most coveted and exclusive brand partnerships, truly establishes his legacy.
"Being involved in European racing, there was always TAG Heuer branding around, and I always looked up to the guys who had a TAG Heuer deal," says Rossi. "I always thought that was the ultimate sign of making it… I'm being recognized as a professional driver by one of the largest watchmakers in the world. It's fulfilling a dream."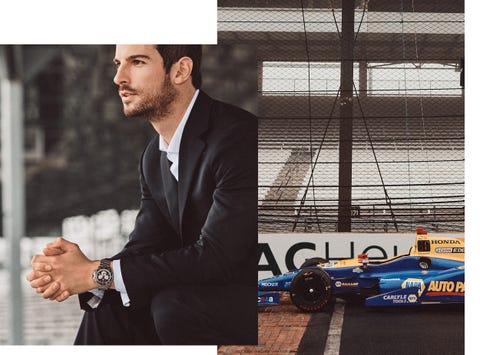 Alexander Rossi established a name for himself early in his career as one of the few Americans to ever compete in Formula One.
Jeff Allen
TAG Heuer's motto is "Don't crack under pressure," which is helpful advice for endurance racing. Rossi drove at the 24 Hours of Daytona, sharing the experience of sleepless nights with fellow TAG Heuer Ambassador Patrick Dempsey. In fact, Dempsey has raced at the 24 Hours of Le Mans four times, three of those while managing and driving with his own team.
"Managing is different because it's really looking at the long-term vision and viability, thinking the next season out," says Dempsey. "What are you going to prep? You're looking at your program down the road without the joy of being in the car."
Dempsey wore a vintage Heuer Monaco while at two of those races–his way of celebrating another icon, Steve McQueen, who popularized the Monaco wristwatch with his portrayal of racer Michael Delaney in the film Le Mans. Turns out, the Monaco was an oddball upon its launch: "We wanted to create something avant-garde," says Heuer. "The Monaco's daring design made it instantly…